Scientists have been searching for years for answers to the worlds most pressing questions; why do we exist? what is our purpose? why do we get silica gel in our shoe boxes? how big were dinosaur gonads? But the most elusive answer that scientists cannot seem to come to agreement upon is 'What is Michaels Mix Tape, where did it come from and why cant we listen to it?'.
For decades the worlds greatest minds have been tirelessly experimenting to learn more about the secrets of this legendary artifact. But what if the answer cannot be found in science, I pose you the question: how can such a thing exist without a God?
in the early 1930's a group of American scientists tried to learn more by creating the world first 'thinking machine' or 'Computer' as it later became know; the word coined by Danny Dyer [circa 1994] as a clever amalgomation of the words 'Communist', 'Putin' and 'Deceiver'. Dyers genius extended this several years later, when he joined the cast of Emerdale or something.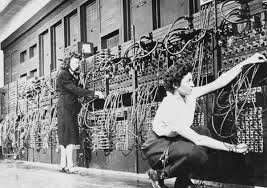 Here is the first image of the computer used to decode the mix tape, sadly to no avail.
"So what is Michaels Mix tape" you may be asking. Well to fully understand it we must look to our holy book - The Prophetical Book
Unfortunately, all copies of the manuscript were destroyed many centuries ago by the middle east. But one surviving copy has been heroically saved by our leader, Rev. Tom Cruise MSc MMA BA PHD assisted by an indonisian boy who sadly, did not make the trip home. RIP.
Below you will find the current scans of the Prophetic Book available for public viewing.